DICEY BUSINESS


Columbia Games News

Feb 1, 2014

~~~~~~~~~~~~~~~~~~~~~~~~~~~~~~~~~~~~~~~~~~~~~~~~~
~~~~~~~~~~~

~~~~~~~~~~~~
NEW HARNQUEST RELEASES - AVAILABLE NOW
Heru Keep occupies a strategic location on the road between Olokand and Tashal and controls the only crossing of the Shem River south of Gardiren. The settlement is part of the fief of the Earl of Osel and is held for him by his constable, Sir Bereden Pawade, a skilled administrator who has dramatically increased the revenue of the estate. The town itself, although modest on the surface, teems with intrigue as agents of various factions vie for position in the succession dispute that is sure to follow the death of Kaldor's King Miginath.
---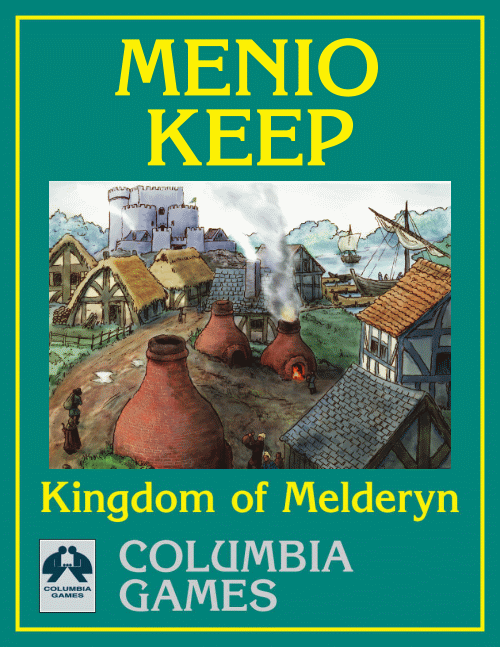 Menio Keep, Melderyn
Menio is the heart of a wealthy barony in northeastern Melderyn. The economy is driven by the pottery trade. The many kilns of the Potters' Guild are fed by barges of charcoal and the smell of smoke is everywhere. Poul Morezyn, the young baron, ignores his responsibility to govern his fief and is rapidly emptying the coffers it took his father years to fill. His mother and his liege hope that marriage might tame him; there are no lack of would-be brides.
The Menio Keep article describes the settlement's history, government, religion, and economics, with special attention to the important pottery trade. Descriptions of craftsmen and other locations in the settlement are included, as well as full-color GM and player maps and complete floor plans for the keep.
---
Lycanthropes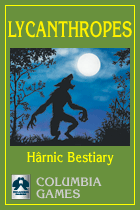 The folklore of almost all Hârnic and Lythian cultures includes tales of lycanthropes and their origins. Lycanthropes are people who have been cursed to involuntarily alter their form to that of a half-human, half-animal creature, typically during the night of a full moon. Although werewolves are the most common type of lycanthrope, the accursed may take on other forms, including that of a werebear or werecat.

Lycanthropes is a bestiary article that includes full descriptions and HârnMaster stats for werewolves, werebears, and werecats. It describes how lycanthropy is spread and possible remedies for it, as well as how the various Hârnic religions view the affliction. HârnMaster rules are given for GMs to generate lycanthropes, either as player characters or NPCs.
---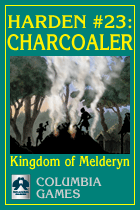 Harden Charcoaler
Noran of Faloran's charcoaling camp is in Bujdel Forest, a league or so across the Horka River from Harden Castle in Melderyn. Noran is a shrewd businessman and an expert in woodlore and timbercraft. He has had a license to harvest timber for charcoal in Bujdel Forest for many years. He is a skilled forager and keen waterfowler on Elierna Bog, and some suspect him of being a poacher.
This article is a location expansion intended for use with the Harden Castle article (COL #5718). It describes the charcoaler and his camp. Full-color plans of the camp are included, along with several adventure hooks the GM can use to bring the location into play.
---
SUMMER CONVENTION SCENE
GENCON 2014
Columbia Games will be at GenCon. We have a booth in the dealer hall and

Grant and Tom Dalgliesh will be there along with Hârn talent Richard Luschek and Brent Bailey.

GM Garry Hamlin has an exciting Hârn event planned:

So Far Away From Home
Your longship's wrecked, you're running from the people you've been raiding. They're armed and hungry for vengeance. You're half-drowned with only what you can scrounge. Going to be a long walk home. None (You've never played before - rules will be taught)

We're keen to support more events.

HARNCON 2014
HârnCon will be back in 2014, in Vancouver, Canada.

July 18-20, 2014.

Grant and Tom Dalgliesh will be there. Don't miss it.

http://www.lythia.com/forum/viewtopic.php?f=48&t=17750

---


RECENT HARN RELEASES. AVAILABLE NOW.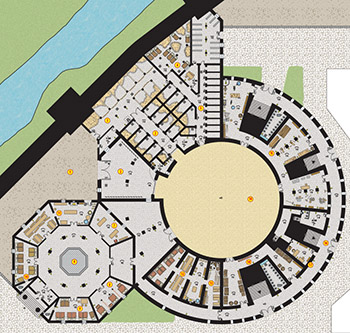 Shiran is Hârn's smallest city. Located on the north bank of the Thard River near Lake Benath, it is the second-largest settlement in the Thardic Republic and capital of Shiran Province. Shiran is one of the Republic's economic and cultural centers. The city has a reputation for corruption and hedonism and is known throughout Hârn as the "City of Sins."
Shiran offers game masters many opportunities as the site of urban intrigue and adventure.
The Shiran article contains an overview of the city's history, economics, religion, government, and military forces. In addition to a full-page color player map, color GM maps are provided for each district of the city and more than 125 locations are described. Color floor plans and detailed descriptions are included for the Pamesani Arena, site of gladiatorial games and depraved spectacles; the Crimson Palace, Hârn's most famous house of courtesans; and the Temple of Halea, the Empress of Opulence and Queen of Pleasures.
Some material in this article was originally published in Cities of Hârn (1983) and Son of Cities (1987). The article has been greatly expanded and organized to allow for future expansion of new plans and sites within the city.
---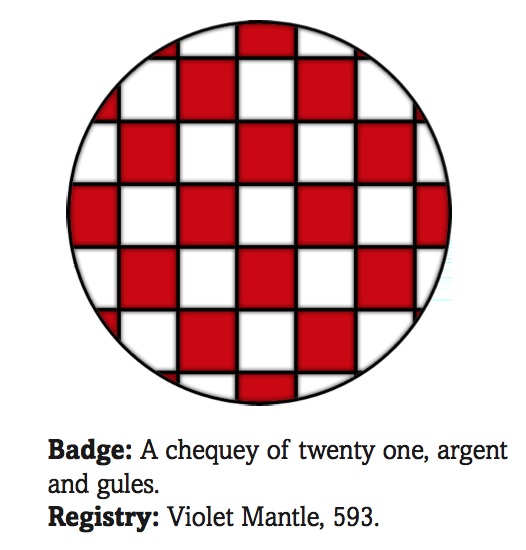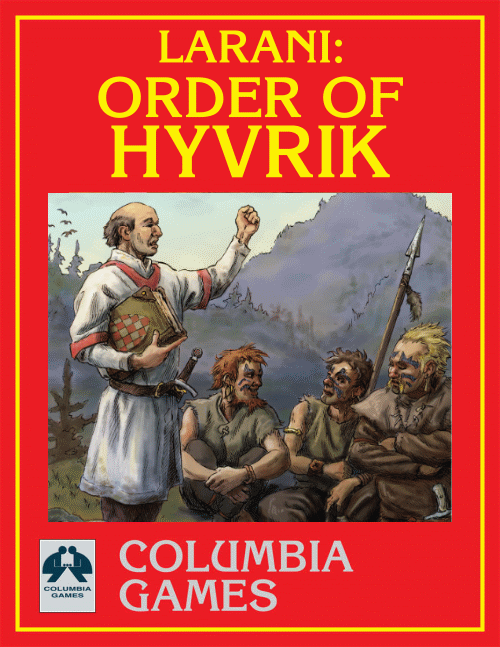 Order of Hyvrik (Larani)
The Order of Hyvrik is the main arm of the Laranian Church in western Hârn and stands as a spiritual bulwark against the churches of Agrik and Morgath that seek to dominate the region. Most of the order's clerics and houses are in the Kingdom of Kanday. Although the order maintains temples in the Thardic Republic and has a small, covert presence in the Kingdom of Rethem, many view it nonetheless as an instrument of Kandian royal policy. The grand temple in Aleath is the headquarters of the order and the residence of its Turintesa (grandmaster), Toril Elcher.
---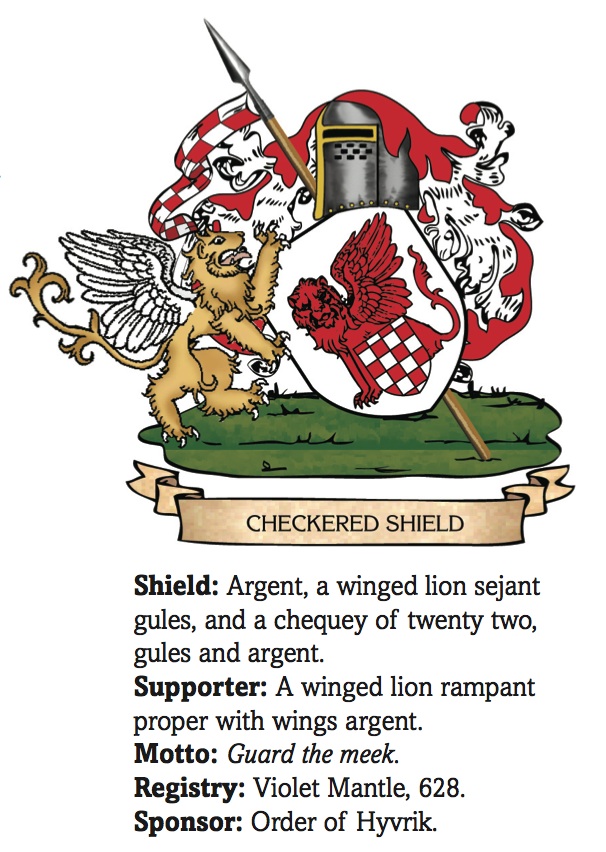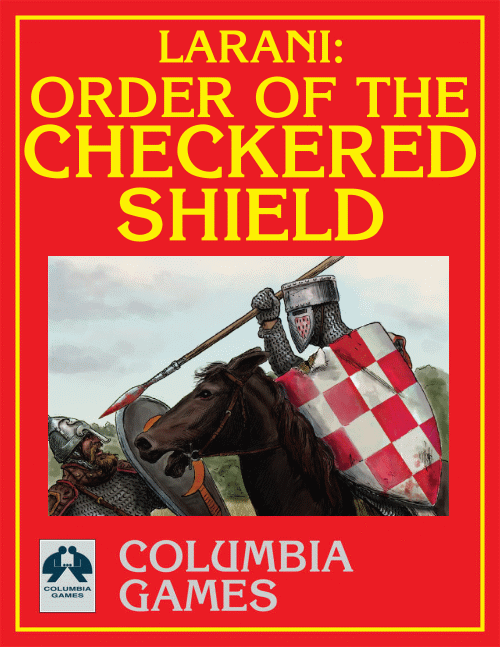 Order of the Checkered Shield
The Laranian Order of the Checkered Shield is sponsored by the clerical Order of Hyvrik and was founded in 622 by King Andasin I of Kanday to guard the northern border of his realm. The order is based at Menekod castle, which it took from the Agrikan Order of the Copper Hook during Ezar's War. Chivalry, honor, and duty are characteristics of the Order of the Checkered Shield, a fighting order dedicated to the goddess Larani, the Shieldmaiden of the Worthy Cause. The knights and men-at-arms of the Checkered Shield are renowned for their individual and collective military prowess and for upholding the ideals of Laranianism.
---
Dyrisa Laranian Temple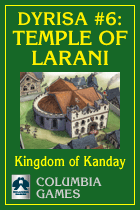 Dyrisa's Laranian temple is dedicated to the goddess' holy silver sword and is commonly referred to as the Temple of Avarkiel. It is run by the Order of Hyvrik and stands in the center of Dyrisa in honor of Larani's role in the victory of King Andasin I over the town's Morgathian overlord in 620. Nobles and commoners come from leagues away for Soratir services.

---
Chyrefal Castle
Chyrefal is the principal settlement of the island of Ikom and shire moot of Melderyn's Ikoshire. The majestic castle town is home to Hârn's premier Odivshe chantry, an ancient megalith circle, and a gigantic haunted burial tumulus. The sheltered harbor is home to a large fishing fleet and the annual spring seafarers' fair attracts boats from all over eastern Hârn. Chyrefal is held for the king by Sheriff Balsen Torele. Communication with Cherafir can be difficult and the crown leaves Ikoshire very much on its own. The sheriff holds moots irregularly.

The Chryefal Castle article describes the settlement's history, government, religion, and economics, and provides details for some of its craftsmen and other locations. Included are GM and player local maps as well as interior plans of the castle and the nearby chantry.

This is a Hârn Classics release. Portions of this article were originally published in 1992 as part of Hârnlore 11. The article has been upgraded new color artwork, redrawn maps, and expanded descriptions of the town locations. In addition, this article includes floor plans and descriptions of the castle citadel that were never before available.

Join the HârnQuest subscription and save money on new releases.
---
~~~~~~~~~~~~~~~~~~~~~~~~~~~~~~~~~~~~~~~~~~~~~~~~~~~~~~~~~~~~~
REMINDERS
~~~~~~~~~~~~~~~~~~~~~~~~~~~~~~~~~~~~~~~~~~~~~~~~~~~~~~~~~~~~~

JOIN FRIENDS OF HARN ON FACEBOOK





https://www.facebook.com/groups/7250630358/


Please also visit the Columbia Games page on Facebook at:

https://www.facebook.com/columbiagames

---
---
PDF HARN MODULES
You can now buy PDF versions of many Hârn products.
Visit:

Or:


Or:
http://paizo.com/store/byCompany/c/columbiaGames
Search for harn or Columbia Games.

~~~~~~~~~~~~~~~~~~~~~~~~~~~~~~~~~~~~~~~~~~~~~~~~~~~~~~~~~~~~~~
SPREADING THE NEWS
~~~~~~~~~~~~~~~~~~~~~~~~~~~~~~~~~~~~~~~~~~~~~~~~~~~~~~~~~~~~~~

Please share Dicey Business by forwarding this issue to a friend or posting it in forums and newsgroups everywhere. Reviewers/Webmasters please post our news to your websites.
We have a link banner available below:

http://www.columbiagames.com/linkbanner/linkbanner.gif
~~~~~~~~~~~~~~~~~~~~~~~~~~~~~~~~~~~~~~~~~~~~~~~~~~~~~~~~~~~~~~
COMMENTS
~~~~~~~~~~~~~~~~~~~~~~~~~~~~~~~~~~~~~~~~~~~~~~~~~~~~~~~~~~~~~~

Comments/Questions/Suggestions - e-mail: orders@columbiagames.com
~~~~~~~~~~~~~~~~~~~~~~~~~~~~~~~~~~~~~~~~~~~~~~~~~~~~~~~~~~~~~~
SUBMISSIONS
~~~~~~~~~~~~~~~~~~~~~~~~~~~~~~~~~~~~~~~~~~~~~~~~~~~~~~~~~~~~~~

We are always looking for interesting submissions for our website. Please e-mail:
orders@columbiagames.com


~~~~~~~~~~~~~~~~~~~~~~~~~~~~~~~~~~~~~~~~~~~~~~~~~~~~~~~~~~~~~
ABOUT THIS NEWSLETTER
~~~~~~~~~~~~~~~~~~~~~~~~~~~~~~~~~~~~~~~~~~~~~~~~~~~~~~~~~~~~~~

DICEY BUSINESS is sent to all gamers on our mailing list, highlighting Columbia Games news and features recently added to www.columbiagames.com. There are two editions of Dicey Business: Hârnworld and Boardgames.
To unsubscribe, change your subscription, or request plain text mail instead of html, please email: orders@columbiagames.com. with your first and last name and the message REMOVE.

Happy Gaming
Columbia Games